Twas the week before Christmas and all through the . . . Viatorian Province Center, paintings are hung, furniture moved in, and phones and computers set up. Yes, after five months of construction and months of planning, the long awaited renovation of the retirement wing at the Viatorian Province Center is nearly complete.
"We're thrilled," says Fr. Mark Francis, CSV, the newly elected Provincial who served on the renovation committee. "We didn't change the footprint, but it appears larger and more open because of all of the improved lighting.
"The architect (Michael Arenson of SAS Architects) visited today and he was very pleased with how it turned out," Fr. Francis added. "He said we've remained true to the building's original architecture and even enhanced it, by removing all of the soffits and revealing the original sightlines."
Highlights of the project include a new HVAC system that allows individuals to control the temperature in their own suite. A new CNA station was created from the space formerly used by a private chapel. The highlight of the new updates is the new vision for the community room. A pillar wall is the focal point, with a large screen TV on one side and the stained glass window from the chapel on the other. Beneath both is a double-sided gas fireplace, enclosed in a brick exterior.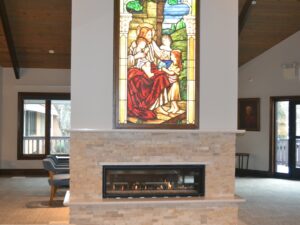 The reading room also was re-done, with a new built-in bookcase and comfortable chairs around a table for reading. A panel of windows facing east lights up the room with morning sun.
Many of the original paintings, from the Viatorians' extensive religious art collection, were hung down the main corridors of the retirement wing. A sophisticated lighting system, features overhead pinpoint spotlights suspended by wires, resulting in these timeless paintings beautifully illuminated, and all with the touch of one switch.
"There's still more to do," Fr. Francis says, "with more furniture coming and a punch list of items to be completed, but we're very happy with the way it's turned out."