If you come across Viatorian documents and materials, while cleaning out files, send them to the Viatorian Community Archives.  That's what a former Viatorian did last week!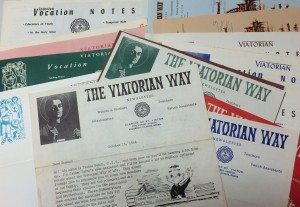 The archives received a bundle of Vocation Notes from the 1960s and personal vocation letters written to him by Fr. Kenneth Yarno, CSV.  All these documents make great additions to the Vocation Collection here.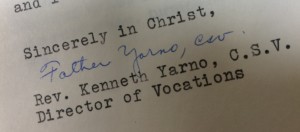 In the 1960s, Fr. Yarno was the vocation director and wrote numerous newsletters to prospective young men.  He is remembered fondly as a friendly, positive, communicator and humorist by the donor of these historical documents.
Thanks for remembering the archives and passing them on!