A series of faith-based discussion groups sprung up this fall at Viatorian ministry sites, all designed to reflect on Pope Francis' recent encyclical, Laudato Si' On the Care of Our Common Home.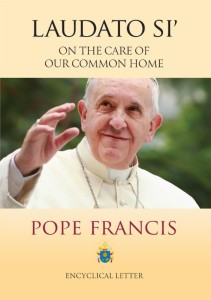 Br. Michael Gosch, CSV, peace, justice and integrity of creation coordinator for the Viatorian Community, led a group at the Province Center, while Fr. Mick Egan, CSV, pastor of St. Thomas More Catholic Community in Henderson, NV, opened a pair of adult education sessions on the same day, that drew 100 people.
Fr. Charles Bolser, CSV, will gather another group at St. Viator Parish in Chicago, beginning in October.
"We were really happy with the numbers and had a very good initial meeting," Fr. Egan said. "The pope's coming to the U.S. dovetails nicely with this as well. He certainly has re-energized lots of folks."
At the Province Center, nearly one dozen associates, brothers and priests gathered, along with faculty members of Saint Viator High School.
"This encyclical has captured the interest and imagination of all kinds of groups around the world, both Catholic and non-Catholic," Br. Gosch said. "I think it's time to reflect on it, pray on it and to share our thoughts on it."
Using a readers' guide, the Province Center group decided to tackle the 190-page, 40,000 word encyclical, one chapter at a time. Consequently, they will meet six times, one for each chapter.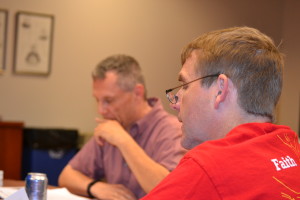 Fr. John Milton, CSV, a retired physics professor, gave the encyclical high marks after an initial read.
"I am quite impressed with how science and religion are merged," Fr. Milton said. "Its defense of scientific arguments is quite sophisticated."
Others, like Pre-Associate Betty Feraci, said they enjoyed being part of a faith-based group, and just learned better that way.
Fr. Corey Brost, CSV, summed up the thoughts of many, when he said: "Part of the reason I wanted to do this is that it gets me to read it."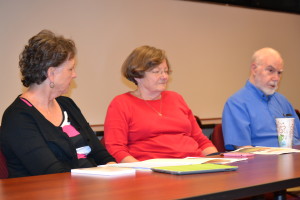 In this teaching encyclical, Pope Francis covers everything from the Gospel of Creation, to climate change, fossil fuels and renewable energy sources. Ultimately, he states that  "our immense technological development has not been accompanied by a development in human responsibility, values, and conscience" (105).
"I'm just intrigued with how the lack of care for our earth really affects the most vulnerable people, the marginalized," Br. Gosch added. "Everything we do has a ripple effect."