On Nov. 14, it will be 20 years since Cardinal Joseph Bernardin passed away from cancer,
at the age of 68. His influence on the Catholic Church was profound during his 44 years of priestly ministry, and some of the issues he embraced continue to be promoted at the Bernardin Center for Theology and Ministry at Catholic Theological Union, led by Fr. Mark Francis, CSV, president.
Fr. Francis reflected on Cardinal Bernardin's legacy during a recent appearance on Relevant Radio. In part, the interview previewed a presentation — Being Church in a Divided World: The Legacy of Cardinal Joseph Bernardin for the 2st Century — that takes place at 3 p.m. Sunday at CTU, given by Kevin Ahern, Ph.D., associate professor of religious studies at Manhattan College.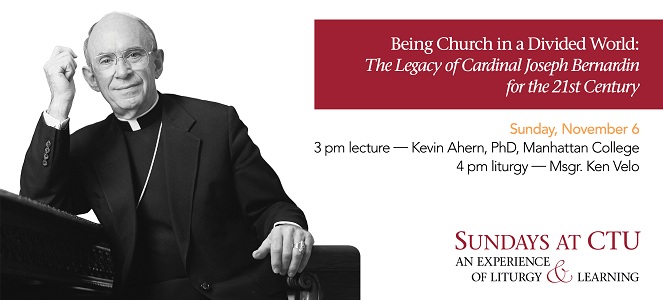 "What he modeled for me was this idea of sensitivity and inclusivity," Fr. Francis said of Cardinal Bernardin, whom he had met several times.
Cardinal Bernardin was also a friend to the Viatorians. He visited their flagship high school, Saint Viator High School, at least twice, including celebrating St. Viator Day and the 30th anniversary celebration of the school, on Oct. 21, 1991.
The Bernardin Center for Theology and Ministry at CTU was established one year after his death, in order to foster understanding in areas such as reconciliation and peacemaking, interreligious dialogue, the consistent ethic of life, leadership development for the Church, Catholic Common Ground, and young adult programming.
Cardinal Bernardin advocated for certain issues of church and society that were of particular concern to him as a pastor and person of faith.  The Bernardin Center for Theology and Ministry explores these signature issues through its strategic vision, public outreach, and educational initiatives.