Nothing brings us back to the magnificence of God's creation than the beauty found in the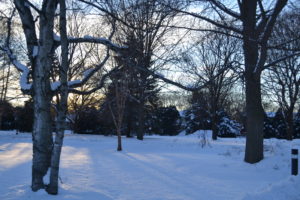 falling snow. And nowhere is that more evident than on the spacious grounds of the Viatorian Province Center.
With its nearly seven acres of land, dotted with close to 100 trees, the 10-inches of freshly fallen snow presents a panorama of beauty and innocence for all to see.
In fact, the snow-covered trees present the perfect backdrop to all of the decorating going on inside the building, where Viatorians live and work.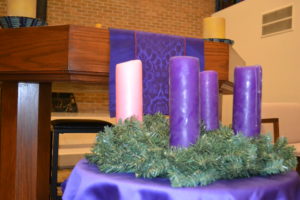 The advent wreath went up first in the Province Center chapel, where it is the centerpiece for daily Mass and noon reflection services, led by Viatorian Associates Karen Cutler and Joan Sweeney.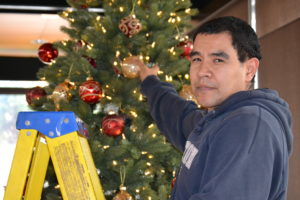 Staff member Noé Quiroga set up festive Christmas trees in the dining room and sitting room of the residence wing, as well as a decorative garland outlining the front door.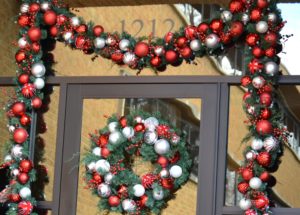 Archivist Joan Sweeney filled her display case with a scene reminiscent of the town of Bethlehem, while Associates Karen Cutler and Donna Schwarz arranged more than one dozen red poinsettia plants in the front lobby.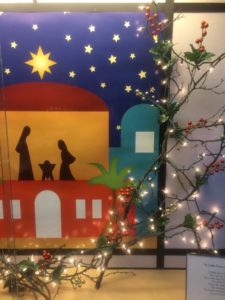 Even residents themselves are getting into the spirit. Fr. Charles Bolser, CSV, has his own tree in his room as well as a crackling fireplace — displayed on his television screen.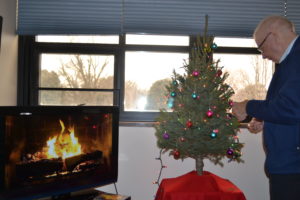 "It's my own way of getting into the spirit," he quips.
Finally, the gateway to the Province Center grounds features colorful garland and wreaths, illuminated at night, welcoming all who enter.