Br. Don Houde, CSV, spent more than 40 years in education — as a teacher,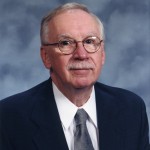 administrator — including seven years as principal of Saint Viator High School — and curriculum director for the Office of Schools within the Archdiocese of Chicago.
Yet, in the middle of his career, from 1967-1968, he took a sabbatical of sorts, teaching English at Ampleforth College, located on the grounds of Ampleforth Abbey in North Yorkshire, England and run by Benedictine monks.
"I wanted to see the different teaching methods in England," Br. Houde says. "I also had time to travel. I particularly enjoyed visiting Canterbury and London."
Ampleforth was founded in 1802 as a private, boarding school for boys. Its students came from mostly upper class families, and included such famous alumni  as Julian Fellowes, the writer who created the PBS series, "Downton Abbey," and was there around the same time as Br. Houde.
While there, Br. Houde taught English to elementary students, as well as high school and junior college, and all at very high levels.
"It was generally seen as a prep school that fed into Cambridge and Oxford," Br. Houde recalls, pointing to Fellowes, who ultimately earned his degree at Cambridge, as an example.
Upon his return to this country, Br. Houde taught for one year stints at Griffin High School in Springfield, Alleman High School in Rock Island and Spaulding Institute in Peoria before advancing to administration in 1972 as the principal of Saint Viator.
"Teaching at Ampleforth was very different from here," Br. Houde say, "but the whole thing was a good experience."