A sprinkling rite, a litany sung to Mary and a sacred blessing. Parishioners at Maternity of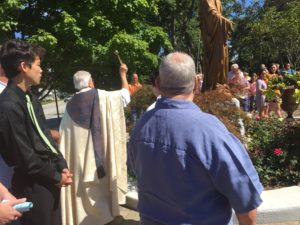 the Blessed Virgin Mary Church in Bourbonnais knew this was not going to be the traditional recessional after Mass.
In fact, they processed out to the parish's new plaza for a rare sight: a dedication of their new gathering space and the rededication of the statue of Mary, which originally had been commissioned more than 100 years ago.
"The minute she was moved into place, I knew it was just right," said Fr. Richard Pighini, CSV, pastor, of the historic statue's move earlier in the summer to the front of church.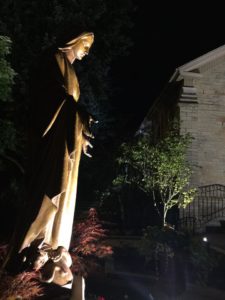 The 7 1/2-foot, 1,400-pound image of Mary is the centerpiece of the newly dedicated plaza, built over the summer to enhance the front entrance of the church.
Blessing the space — and the patroness of the parish — reinforced the sacredness of historic church and its grounds.
"The environment has to be beautiful, both inside and out," Fr. Pighini says. "Beauty is just important when it comes to faith."