Fr. Daniel Lydon, CSV, calls the Alumni Memorial Chapel at Saint Viator High School, "the heart of the school," and he should know. Named President in 2021, he returned to his alma mater, where he graduated from in 1973 and would return as a teacher and later as vice principal.
Now, with one school year under his belt, he set out to make enhancements — and he started with the chapel. On Sunday, nearly six months after the renovation began, Fr. Lydon invited school families to attend a special Mass, where he rededicated the chapel and blessed its newest elements.
"We have gathered here in this sacred space for the solemn blessing and rededication of our school chapel," Fr. Lydon said. "Our help is in the name of the Lord."
Right from the outset, the project was a labor of love. Backed by generous donors who funded the project, no tuition dollars or capital campaign donations were used. Fr. Lydon and a committee of school officials worked with the specialists at Daprato Rigali Studios in Chicago, whose mission is to preserve and enhance ecclesiastical art. The company dates back to 1860 and has worked in hundreds of churches.
Viatorians worked with the company back in 2013, to enhance the sanctuary of Maternity BVM Parish in Bourbonnais. Its designers implemented a sky blue ceiling with stars, as well as backdrop of gold, hand-stenciled fleur-de-lis. Later that same year, the company would do initial work in Saint Viator's chapel, creating a light blue, tray ceiling that lightened the space.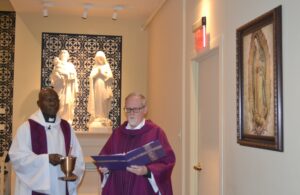 With this latest project, the company again suggested a hand-stenciled background, similar to fleur-de-lis, subtly reflecting the French origins of the Viatorians.
At the rededication, Fr. Lydon and Fr. Jean Didier Sohotode, CSV, sprinkled each new element with holy water, including the historic statues of Joseph, Mary and the infant Jesus – which date back more than 100 years to the original St. Viator College – as well as a new image of Our Lady of Guadalupe, Patroness of the Americas; and the newly refurbished, marble-topped baptismal font.
The final blessing was reserved for the new tabernacle. The gold-plated tabernacle, with Viatorian symbols inset on its doors and set atop of one of the original marble altars, was a gift from the family of Associate John Paulik, a former religion teacher who passed away in 2020.
Fr. Lydon prefaced the rite of blessing with his homily on this first Sunday in Lent, where he asked this question: "How do we rededicate ourselves to a bolder faith and a mightier love?"
He reasoned that one way was to rediscover the sacred space in the school's chapel, as a place of prayer, worship and sacramental ministry.