Among the annals of former Viatorians, perhaps no one was more of a sportsman than Fr. Edward Cardinal, CSV,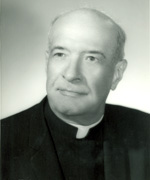 who regularly played tennis, handball, raquetball and badminton, during his 65 years of religious life and 57 as a priest.
His career spanned from the Vatican where he served as a research assistant, to a professor at Loyola University and as pastor of St. Viator Church in Chicago.
That's where, nearly 60 years after he was re-assigned to another parish, St. Viator parishioners renamed one of its facility in his memory, its recreation center. The dedication ceremony came after the renovation and installation of a new roof on the 56-year old building, which Fr. Cardinal oversaw during its construction in his last year as pastor.
As a board member of the Catholic Youth Organization and strong believer in physical fitness, Fr. Cardinal led the effort to expand the campus to include the recreation center, with its gym and meeting rooms. Now, the Rev. Edward V. Cardinal, CSV, Recreation Center will forever reflect his legacy.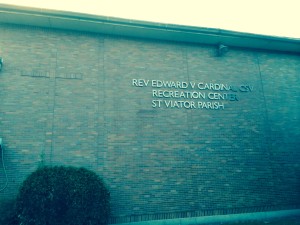 Its renovation was part of the Generations of Faith capital campaign, led by Fr. Charles Bolser, CSV, pastor. Fundraising started as part of the Chicago Archdiocese's Transforming Parishes initiative, that aims to advance the ongoing growth and vitality of parishes. St. Viator's campaign has drawn more than $870,000 in pledges.