The Viatorian Community supports this statement on the George Floyd murder, the anti-racism movement, and the anti-police brutality uprsing. It was posted June 15 by the Chicago Religious Leadership Network on Latin America: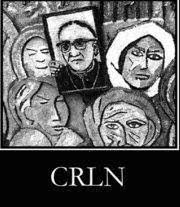 How long, O Lord, must I call for help?
But you do not listen!
"Violence is everywhere!" I cry,
but you do not come to save.
Why do you make me look at injustice?
Why do you tolerate wrongdoing?
Destruction and violence are before me;
there is strife, and conflict abounds.
Therefore the law is paralyzed,
and justice never prevails.
The wicked hem in the righteous,
so that justice is perverted.
Habakkuk 1:2-4

Nine minutes. After 2 minutes without oxygen, the average adult human will lose consciousness, and after 3 to 4 minutes without blood flow, the brain begins to die. After 5 minutes without oxygen, the human brain enters the stage at which damage is likely unrepairable and death is imminent. For nine long minutes George Floyd lay on the asphalt in Minneapolis with officer Derek Chauvin's knee on his neck. Nine minutes, some six of which George repeated over, and over, and over again, "I can't breathe." Nine minutes in which a dozen or so on lookers likewise repeatedly yelled at the police, "Let him up! He cannot breathe!" Nine minutes, during at least two of which it was obvious Mr. Floyd was unresponsive, but officer Chauvin's knee remained on George's neck regardless. Nine minutes that encapsulated 400 years of oppression. Nine minutes that launched a rebellion, an uprising, that says enough is enough.
CRLN mourns the murder of George Floyd and shares the righteous indignation of the millions who have had enough of the killing of people of color at the hands of law enforcement. In the midst of the coronavirus pandemic, protest signs remind us that "Racism is a pandemic, too." CRLN stands in solidarity with the thousands who have decided to take to the streets to peacefully demonstrate their anger and demand justice over the last eleven days and counting. This is an uprising against racial oppression that will not be silenced with simple platitudes or even the necessary and essential convictions of the four police officers responsible for Floyds death – that is only a start. This is a movement that seeks to uproot the entire structure of systemic racism in this nation and beyond, and CRLN commits to playing our part in its dismantling.