One of the main pillars of the Viatorian Community is to work to eliminate hunger in this country. To do this, Viatorians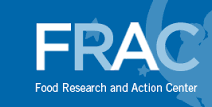 endorse the Washington-based FRAC — or the Food, Research and Action Center — which is the leading national nonprofit organization working to eradicate poverty-related hunger and under-nutrition in the United States.
FRAC is reporting that the latest proposal from the Trump administration, the SNAP SUA rule, will have harmful impacts on health and well-being as well as on the economy.
USDA's proposed rule on SNAP Standardization of State Heating and Cooling Standard Utility Allowances (SUA) would cut program benefits by a total of $4.5 billion over five years.
This cut would result from changes in how states take households' utility costs into account in determining the amount of SNAP benefits for which they qualify.
Learn more about SNAP rules, school breakfast program and hunger on campus, here.