This week, professed members of the Viatorians are breaking away from their every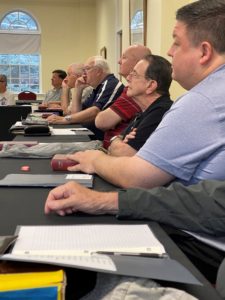 day roles to renew themselves spiritually while on retreat.
The setting is the conference center at Mundelein Seminary, the major seminary for the Archdiocese of Chicago. In between large and small group sessions, Viatorians have a chance to walk near the lake that centers the 600 acres on the campus and explore the peace and serenity among its sacred statues and buildings.
Br. Armand Alcazar, FSC, is leading the retreat. He is a former theology professor at Lewis University and he led them through topics about well being, relationships within the community and ministering to young people.
"The retreat really builds fraternity among the professed," said Fr. Jason Nesbit, CSV, pastor of Maternity BVM Parish in Bourbonnais. "I'm impressed that a good number of us were able to attend."
Viatorians on hand represent all of the regions in the Chicago Province, except Colombia. They include retired members, those actively serving in schools and parishes, as well as members involved in social justice and immigrant accompaniment. The youngest Viatorian to attend is Pre-Novice Ryan McMahon.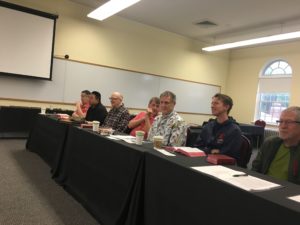 "The retreat is about the professed members coming together to discuss community life," says Fr. Daniel Hall, CSV, Provincial.
Fr. Corey Brost, CSV, who serves as executive director of Viator House of Hospitality, agrees: "I'm enjoying the camaraderie and engaging dialogue about and how the Viatorians are looking for solutions instead of discussing the problems."
Fr. Daniel Belanger, CSV, who serves as pastor of St. George Parish in Bourbonnais and St. Mary's in Beaverville, sums up the week this way: "I love the candid dialogue which allows everyone to see the whole community from all regions of the Chicago Province."