Now that we are in Holy Week, preparations at the Viatorian Province Center are in full steam, with bright blue hydrangea and Easter lily plants arriving to decorate the chapel and gathering areas.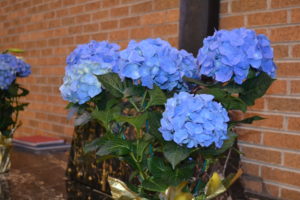 Viatorian associates, brothers and priests will gather in the Province Center Chapel for Holy Thursday Mass of the Last Supper and the transfer of the Blessed Sacrament to the Chapel of Repose.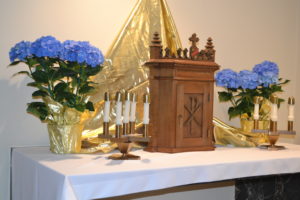 Once again, Associate Karen Cutler, coordinator of programs and special events, and Br. Don Houde, CSV, sacristan, collaborated on decorating the chapel and preparing for the Mass, along with Fr. Dan Hall, CSV, provincial.
The Mass is filled with beautiful music, powerful prayer and traditional washing of the feet.
"These are three of the most sacred days of our liturgical year," says Fr. Hall. "We experience, not as passive observers, but as participants, the final days of Jesus before his resurrection."