Join with the Viatorian Community on Feb. 8, in observing the first International Day of Prayer and Awareness Against Human Trafficking.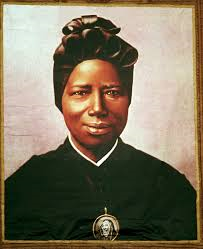 This worldwide day of prayer comes straight from the Vatican and Pope Francis, who has made human trafficking one of his top priorities.
Held just one week after the Super Bowl —  thought to be the single largest human trafficking incident in the United States — it is the feast day of St. Josephine Bakhita.
She was born in the Sudan and kidnapped at the age of 9, to be sold into slavery. St. Josephine eventually was freed and later spent 50 years as a religious sister with the Canossian Daughters of Charity in Venice, Italy.
She ultimately dedicated her life to sharing her testament of deliverance from slavery and comforting the poor and suffering. She was declared a saint on Oct. 1, 2000.
"The history of her life inspires not passive acceptance but the firm resolve to work effectively to free girls and women from oppression and violence," said Pope John Paul II during her canonization, "and to return them to their dignity in the full exercise of their rights."