Viatorian Associate Gerry Roller and her husband, Bud, renewed their wedding vows in September, on the occasion of their 60th anniversary. They assembled with family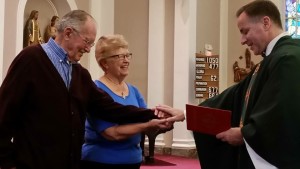 members at St. James Church, where the couple raised their children and have been active parishioners.
It was another milestone for Gerry, who has partnered with the Viatorians for more than 40 years, first as registrar at Saint Viator High School for 29 years, and for the last dozen years as a lay associate.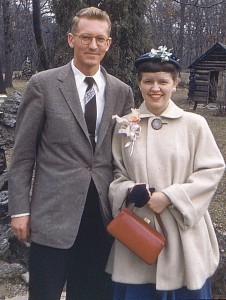 Her relationship with the Viatorian Community goes back even further, before her marriage, back to 1952, when her brother, Fr. James Michaletz, CSV, professed his first vows as a Viatorian.
As a result, Gerry holds a unique distinction among the more than 75 lay associates: she is the only one with a brother who is a professed Viatorian.
Since joining the community herself, Gerry has helped organize the monthly Taizé prayer services, helped with mission advancement and more recently joined the Viatorians working to accompany immigrants released from detention.
She also has stepped up into a leadership role, last year joining the regional committee for the Arlington Heights/Chicago region.