As the 50th anniversary of Viatorians serving in Haiti approaches, the numbers of Haitian Viatorians continue to grow.
On Oct. 12, Bishop Yves Péant from the diocese of Gonaives, ordained Rev. Jeanin Gaétan, CSV to the priesthood along with five other deacons.
"It was a moment of great joy for the Viatorian community — and for the Diocese of Gonaives," says Br. Éric Cothière, CSV, who serves on the vocation commission in Haiti.
The newly ordained Fr. Gaétan ministers as a chaplain to the four schools in Gonaives where  Viatorians serve.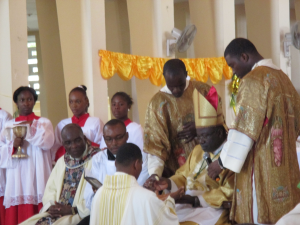 There now are 34 Haitian Viatorians, including 24 in perpetual vows and 10 in temporary vows, as well as four novices. There also are 11 Viatorian Associates in Haiti.
Haitian religious also serve the international Viatorian Community, with six presently in Canada, as well as Fr. Harry Célestin, CSV, who is in Rome serving as a member of the General Council.