The one-year anniversary of the Las Vegas shooting was on the minds of parishioners all weekend at the two parishes where Viatorians minister, including St. Viator Catholic Community in Las Vegas and St. Thomas More Catholic Community in suburban Henderson, NV.
At St. Viator, led by Fr. Richard Rinn, CSV, pastor and Fr. Lawrence Lentz, CSV, associate pastor, all of the weekend Masses featured no preaching but contemplative prayers, songs and reflections all centered around the theme of hope and healing. The liturgies drew parishioners as well as a larger than usual number of visitors to the church, located just four miles from the Las Vegas strip.
"It was very sobering," Fr. Rinn said simply of the parish's services.
Parishioners arrived at Mass to find 58 candles assembled in the sanctuary, or one for every victim. The solemn display drew many worshippers to stay after Mass for prayers and even take photos.
Over at St. Thomas More, a special prayer service was planned on the anniversary itself, Oct. 1. The service was planned to remember the victims as well as all those affected by the tragedy, while Viatorians in Campus Ministry at Bishop Gorman High School helped students deal with the anniversary.
Finally, officials with the Las Vegas Diocese chose to hold a special service at St. Viator Catholic Community for the diocese-wide "Journey of Remembering."
The event features the "Hope Monstrance," which was rescued in 2005 in New Orleans after Hurricane Katrina and blessed by Pope Benedict XVI one year later. Since then, the sacred monstrance has traveled to hundreds of churches as a symbol of courage and inspiration.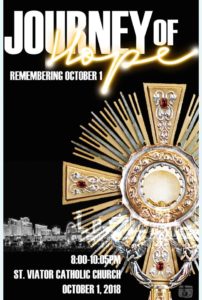 The monstrance will lead a candlelight procession around the church, before a sacred liturgy, adoration and benediction. The ceremony is planned to end at 10:05 p.m., exactly one year after the first shots rang out one year ago.