Vocations continue to grow in Bogotá, Colombia, where Viatorians have served for more than 50 years, with the latest ordination of Br. Gustavo Lopez Cubillos as a deacon. It is the final, formal step before ordination to the priesthood.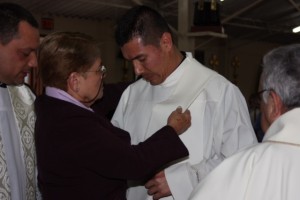 The ceremony took place at San Juan Maria Vianney Parish in Bogotá, by Bishop Juan Vicente Cordoba V. S.J., Archbishop of the Diocese of Fontibon.
Br. Gustavo's introduction to the Viatorians came through volunteering with a youth group, in the small town of Libano, where Viatorians lived and ministered. Although Br. Gustavo had previously earned a degree in computer engineering and had worked in the banking industry, the Viatorians made an impression.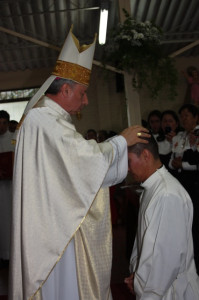 "What I noticed during my discernment was that they were dedicated to working with children and young people," said Br. Gustavo, in education and parish work, as catechists and lectors, are their strength in ministry."
Br. Gustavo entered the novitiate in 2002 and professed his temporary vows one year later. He currently serves as director of campus ministry at De LaSalle Christian Brothers in Bogota.
As an ordained deacon, Br. Gustavo will continue his pastoral work at San Juan Maria Vianney, where he can read the Gospel and preach, as well as celebrate the sacraments of baptism and preside at wakes and funerals.