Parishioners of the historic St. Mary's Church in Beaverville, IL pulled out all the stops for their annual Founders' Day celebration.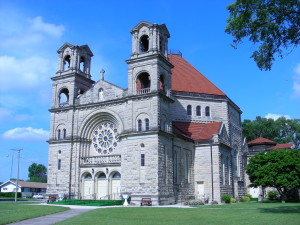 More than a church picnic, the event includes a classic car show, church tours, musical entertainment and a dinner — complete with homemade pie for dessert.
Reportedly, the festival is so popular with surrounding residents, that it draws roughly 1,500 people, or five times the number of people in the village.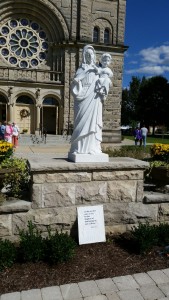 This year's celebration began with a compelling story, that seemed to affirm the deep roots of the parish — run by Viatorians from 1882-1996, and again since 2014 — and its place of reverence for area families.
Before all of the entertainment started, Fr. Daniel Belanger, CSV, pastor, dedicated a white marble statue of Mary, the church's patron, holding the child, Jesus, in her arms. It was commissioned by Jim Curby, in memory of his wife, Burnetta, who passed away last summer.
According to Curby, his wife had taught religious education for 29 years, had worked with the youth group and even organized their annual Christmas show.
St. Mary's Church is the biggest landmark in Beaverville. Visitors cannot miss it, since it is often referred to as the "cathedral in the cornfields."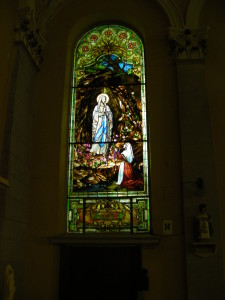 While the parish dates back to 1857, the current church was begun in 1909, under the leadership of Fr. Moses Marsile, CSV, pastor. The foundation was laid, fittingly, on the feast of the Annunciation, and its stained glass windows depict the life of the Virgin Mary.
The new statue of Mary includes a bench and garden area, and an inscription which bears the motto of the Viatorians: "Let the children come unto me, for the kingdom of God belongs to such as these."
Curby, who's family runs the local hardware store, was interviewed by the Kankakee Daily Journal.
"I hope people will go there if they're troubled and feel a sense of peace," Curby said. "I hope this can be a healing place."