The newest Viatorian priest brings a rich background to his ministry. He is a scholar of Medieval and modern history, who taught Latin and French literature at Louis Querbes High School in Rodez, France.
Fr. Philippe Arnal, CSV, was ordained May 9 during a Mass steeped in tradition. It took place at the historic Cathedral of Rodez, which was built during the Middle Ages. Its church bells rang out at the start of the Mass, drawing many diocesan priests and Viatorians to share in the joyous occasion.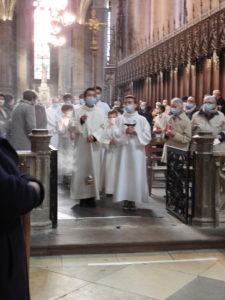 Fr. Arnal is a native of Rodez, who professed his first vows as a Viatorian in 2012 and his perpetual vows in 2016. He was ordained as a transitional deacon in 2020, in the same Cathedral of Rodez.
In an interview for the Diocese of Rodez, Fr. Arnal reflected on some of the people who had played a role in his religious calling: from his grandmother, who attended daily Mass; to his parish priest growing up, and Fr. Bernard Molinier, CSV, who worked in youth ministry in schools and parishes in the Rodez area.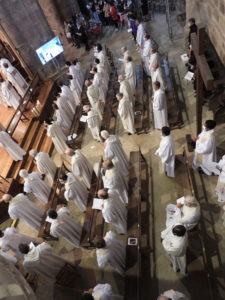 He credited all of these people as well as the Viatorians in his local community with influencing him during his discernment.
"The Christian vocation of today consists in being a sign of hope for a world that needs it so much," Fr. Arnal said. "The priestly vocation then becomes a help for the circulation of this life of grace in the whole ecclesial body."
Fr. Arnal now begins his pastoral ministry at a large parish outside Rodez, starting this fall. He will serve as assistant pastor, along side of Fr. Pierre Demierre, CSV, Provincial of France, who will serve as pastor.