If you think the start of a new school year is all about opening books and getting to work, think
again. At Colegio San Viator in Bogotá — started by Viatorians more than 50 years ago — the school year opened earlier this month with the opening ceremonies of the Houses, led by Fr. Albeyro Vanegas, CSV, president of the school.
At the Colegio, students are divided into four houses, named after Viatorians who were influential in the start of the school: Fr. John Cusack, CSV, who raised money for the foundation of Colombia; Fr. John Stafford, CSV, a former provincial; Fr. James Crilly, CSV, one of the three original missionaries, and Fr. Louis Querbes, founder of the community.
A running competition goes on throughout the year, tallying each house's combined performance
in academics, environmental awareness, recycling, service initiatives and sports competitions.
"Everyone in the school community belongs to a house," explains Diego Cordoba, an administrator at the Colegio. "We don't have a material reward, but with everyone participating in the house activities together, we have a lot of pride in belonging to the winning house."  
Of course, there were more reverent activities that took place during the opening month of school, including the distribution of ashes on Ash Wednesday, by Fr. Gustavo Lopez, CSV, chaplain of the school.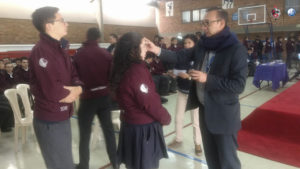 With the start of the new year, Viatorians on staff remained committed to maintaining the school's high standards, by providing an education that is faith-based, co-educational, bilingual and pastoral.
Colegio San Viator stands out as one of the best schools in Bogotá, especially after it was authorized as an International Baccalaureate school in April, 2016. This worldwide recognition affirms the educational mission of the Colegio, started by Viatorians in 1961.