After more than 150 years, the school at Maternity of the Blessed Virgin Mary Church has a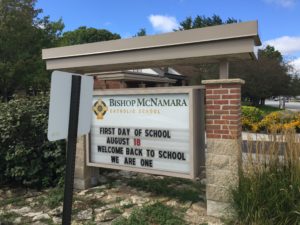 new name. Students now attend Bishop McNamara Catholic School, which is part of a new countywide system that also includes a site at the former St. Joseph Catholic School in Bradley and Bishop McNamara High School in Kankakee.
Classes started last week.
All three sites operate within the same system. Students at the former BVM site attend kindergarten through sixth grade at the Bourbonnais parish, while the former St. Joseph School offers the same grades in Bradley. Seventh and eighth graders from both sites now attend middle school on the Bishop McNamara High School campus, located in Kankakee.
Terry Granger serves as superintendent of the new school system and principal of the
seventh and eighth graders, as well as the high school students.
Fr. John Belmonte, superintendent of Catholic schools for the Diocese of Joliet, announced the decision last spring after several years of discussion. As a result of the consolidation, the 35-year old Aquinas Academy — which took in children from St. Teresa, St. Patrick and Sr. Martin of Tours parishes — and was housed in the school on the campus of St. Patrick Church in Kankakee, closed. Instead, those students were encouraged to attend schools in the new system.
Parish members of St. George Church in Bourbonnais, whose children attend some of the schools, accepted the decision. More than that, they put a positive spin on the beginning of school, by inviting the nearly 90 faculty and staff of the new system to a dinner reception at their parish hall.
"With this being the first year of a new beginning, we wanted to show our support of Catholic education," said Fr. Dan Belanger, CSV, pastor and a chaplain at Bishop McNamara High School. "Especially during this Year of Mercy, we are trying to bring awareness by showing acts of support to those who teach the Catholic faith."