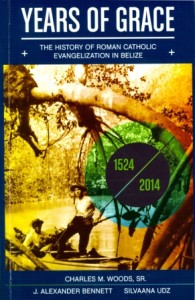 The Viatorian Community Archives received a book from the Most Rev. Christopher Glancy, the Auxiliary Bishop of Belize City and Belmopan.  It is titled Years of Grace: The History of Roman Catholic Evangelization in Belize 1524-2014 written by Charles M. Woods, Sr., J. Alexander Bennett and Silvaana Udz.  The book was published in 2015 by the Roman Catholic Diocese Belize City and Belmopan.
The Viatorians established the Foundation of Belize in Sept. 1998 in response to the decision of the General Chapter of 1994 to take on a mission abroad and remained there until Apr. 2014.
They are featured on pages 293-299 in the paperback book of 384 pages. On p. 297 is a photo of the concelebrants at the ordination of Fr. Moses Mesh, CSV.