Less than two years after Pope Francis declared the founder of the Viatorians to be the Venerable Louis Querbes, Viatorians in this country and in France have worked together to create a new biography of the 19-century pastor.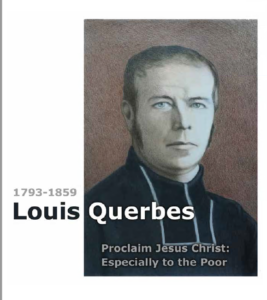 Called "Louis Querbes: Proclaim Jesus Christ, Especially to the Poor," it is just 16 pages and features such primary sources as original photos, documents and artifacts on each page. This latest version was adapted from a longer version written by Br. Robert Bonnafous, CSV.
"Now that Fr. Querbes is on the road to beatification, we're trying to do all we can to make his story known," says Fr. Daniel Lydon, CSV, who spearheaded the creation of this short booklet.
Both Fr. Daniel Hall, CSV, Provincial of the Province of Chicago and Fr. Pierre Demierre, CSV, Provincial of the Province of France, agreed, describing Fr. Querbes as a "man ahead of his time."
"From the very beginning, he envisioned a community of professed religious and laymen to assist pastors in educating young people in faith," Fr. Hall said.
Fr. Demierre adds that Fr. Querbes developed this new religious congregation to reach remote parishes and provide them with catechists.
"This story illuminates the best traits of the wonderful man who knew how to grow in holiness," Fr. Demierre said, "and never looked back."
Fr. Lydon sought help in creating the piece. He turned to a pair of Christian Brothers, Br. Karl Walczak, CFC, and Br. Charles Gattone, CFC, to translate the edition into French, as well as Br. Paul Soulié, CSV, in Rodez, France, to help with final editing.
Br. Soulié says the focus is on the main points, including Fr. Querbes' vision, the first years and the many difficulties he met with before forming the religious congregation.
"The text is easy to read, it is not long," Br. Soulié says. "I think it can be distributed to persons interested in the Viatorians, in their lives and ministerial works, as well as high school  students, in parishes or even to any people Viatorians meet."
Br. Bonnafous is retired and living in Rodez, but he gave his permission for his longer work to be adapted into a shorter form.
"Back in 2000, the General Chapter considered that Fr. Louis Querbes' time had come," said Br. Bonnafous, reflecting on his eventual road to beatification, "and that he could be a role model and an inspiration for the church today."