Bittersweet.
That's how Br. Rob Robertson, CSV, describes his emotions as he prepares to leave Saint Viator High School at the end of the school year, where he has taught and counseled students for a total of 20 years.
He will be heading west, to St. Viator School in Las Vegas, where the pastor, Fr. Richard Rinn, CSV, has asked him to join the staff as a counselor to junior high students.
"I have never ministered in one of our parishes and I look forward to being part of a parish community," Br. Rob said. "But I will definitely miss the wonderful relationships I have made at Saint Viator, especially the students I have had the pleasure of counseling over these last 10 years."
In Las Vegas, Br. Rob and his trusty dog, Archie, will live with other members of the Viatorian Community, including Fr. Bill Haesaert, Fr. Bob Bolser and Br. Dan Tripamer.
Viatorians have ministered to people in the Las Vegas area for more than 60 years, and includes more than 30 associates, brothers and priests in the region.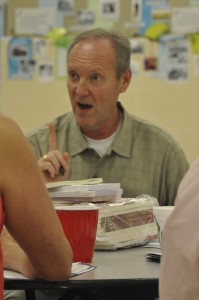 "I am excited about the new possibilities that await me in the west," Br. Rob added, "and connecting with the Viatorian Community who are active in the Las Vegas and Henderson regions."
Fr. Thomas von Behren, CSV, provincial, described the move as "new beginnings, new dreams."
"Rob, we offer you blessings on your new ministry," Fr. von Behren said, "and welcome you to your new community in Las Vegas."