In just its second year, a Peace Camp designed for middle school students by the Children of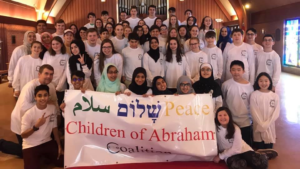 Abraham Coalition — an interfaith nonprofit corporation — sold out. Its success leads teenage leaders to believe their vision to promote interfaith literacy, relationships and reverence, is growing.
Fr. Corey Brost, CSV, founded the Children of Abraham Coalition in 2010 in response to the growing number of hate-based events in the wake of 9/11. Right from the start, he offered events that promoted interfaith dialogue between people of Christian, Jewish and Muslim faith traditions.
Last year, the teen board members of the Children of Abraham Coalition conceived the idea of a camp for middle school students, after experiencing faith-based bigotry themselves.
"This event is important because religious-based fear and hate start early," Fr. Brost says. "During the camp, even sixth graders can identify it and have experienced it.
"Our goal is to help these kids grow in interfaith literacy," he adds, "while also learning skills to speak out against faith-based bigotry and bullying."
The camp took place in mid-February and drew more than 40 middle school students to enroll. A team of 20 Muslim, Jewish and Christian high school leaders had planned extensively for their experience.
"They were eager to show these middle school students how to change the world," Fr. Brost added. "Salaam, shalom, peace."
Over the course of the two days, students visited a mosque, synagogue and a church in Chicago's North and Northwest suburbs. At each stop, they received a tour as well as a presentation from young people about each faith tradition and important artifacts from their religion.
"Studies show that anti-Semitism, Islamophobia and hate groups are on the rise," Fr. Brost said. "People just don't become like this. They are raised in fear and prejudice from an early age."