In his more than 50 years of religious life, Fr. Charles Bolser, CSV, has spent more than half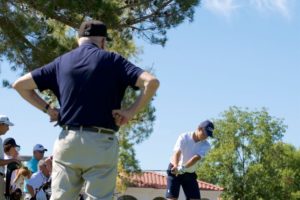 of his career in high schools, first as a teacher at Griffin High School in Springfield before joining the administration at Bishop Gorman High School in Las Vegas and Saint Viator High School in Arlington Heights.
In retirement, he remains involved in mentoring high school teens, this time as chaplain of the boys' golf team at Saint Viator.
One of the perks of the job came last weekend, when he joined five seniors from the team in flying to Scottsdale, AZ for the 7th annual Antigua National High School Golf Invitational.
Saint Viator has competed in the tournament from the beginning. It is considered to be one of the most prestigious high school golf invitationals in the county, challenging boys and girls teams to 36 holes of tournament play. In all, a total of 39 teams competed, coming from nine states and two other countries.
The event took place at the historic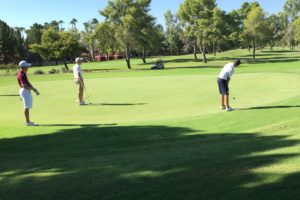 McCormick Ranch Golf Club in Scottsale, where its two 18-hole courses — each over 7,000 yards long — are nestled between the Camelback and MacDowell mountains.
Fr. Bolser observed practice rounds — and competitive stroke play, and even offered players some advice on relaxation techniques.
After the completion of the tournament on Saturday, he offered a home Mass for the team, coaches and parents, where he reinforced the importance of community and family.
"I think it was a reminder to the boys that this isn't just a golf team they signed up for," said Dave O'Grady, whose son Sean plays on the team. "It is a golf team at a Catholic high school. I loved it!"