Parishioners at Maternity BVM Church in Bourbonnais are used to seeing a statue of Mary, prominently featured on a curve on Marsile Street, visible to motorists approaching its church and school.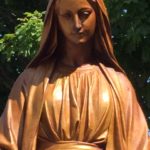 This week, the 7 1/2-foot, 1,400-pound statue — made of iron and dating back more than 100 years — moved to a newly finished plaza, built to enhance the front entrance of the church.
"Finally, she gets to see the front of the church," quips Fr. Richard Pighini, CSV, pastor.
"Our Lady of Grace" originally was commissioned by a family back in 1914, to be perched on top of the convent for the Congregation of Notre Dame sisters who arrived in Bourbonnais as early as 1862 — three years before the Viatorians — to teach local students.
When the convent was razed in 1971, the statue of Mary moved to its high visibility location along the curve.
"I think moving her closer to the church makes her more prominent," says Fr. Jason Nesbit, CSV, associate pastor. "It just seems more powerful to see her as you enter church and it's a fitting place for our patroness."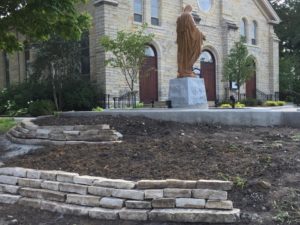 Fr. Pighini, who has led the parish as pastor for 20 years, agrees.
"May she continue to preside over and protect Maternity — and the village of Bourbonnais," he says, "for the next 100 years."