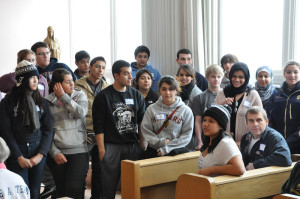 Make Light Work
Students from Saint Viator, Cristo Rey St. Martin, and Walter Payton high schools, as well as members of the interfaith coalition, Children of Abraham, banded together recently and all with one goal: To help convert a former convent into a welcome center for immigrants released from detention.
They gathered at the new Marie Joseph House of Hospitality, located in one of Chicago's west suburbs. Working in groups, they rolled up their sleeves to begin  washing walls, cleaning windows and moving furniture.
Adults were on hand to pitch in as well, including Viatorians and several women and men religious from Sisters and Brothers of Immigrants.
It was a big job. The former three-story convent contains 18 bedrooms, and that's not counting all the common areas and other rooms which the Interfaith Community for Detained Immigrants hopes to convert into private space for families.
After all their hard work, the group relaxed over pizza, while sharing their reflections on providing accompaniment to immigrants, within the context of interfaith service.