That age-old adage played out again over Thanksgiving this year, as more than 500 parishioners combined to provide holiday meals to residents in Henderson and the greater Las Vegas area.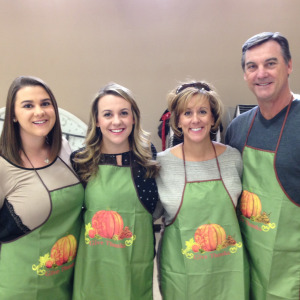 Literally, 668 meals were delivered to 437 addresses by 329 families of St. Thomas More. Parish members call the outreach, GLOWS, or God's Love Overflows While Serving, and they have been carrying out this mission since 2002..
"This wonderful tradition has beome a favorite of many families here, who report back that it has enriched their own Thanksgiving," says Fr. Patrick Render, CSV, pastor. "Many of the homebound are delighted by the visit — as well as the meal — and send us notes of appreciation."
They partnered with HopeLink of Southern Nevada, a nonprofit organization based in Henderson, as well as Meals on Wheels to identify seniors who were homebound or alone on Thanksgiving day.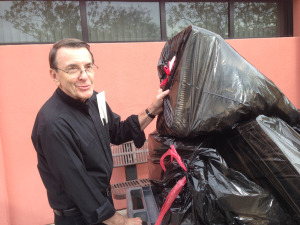 "The hope and the real ministry is not so much the food, but a ministry of visitation," says Dorothy Distel.
The actual delivery and visits took place on Thanksgiving Day, but efforts began taking place behind the scene early that same week. That's when dinner recipients were verified by phone and assignments for parish members were drawn up.
On Thursday, parish volunteers served breakfast to more than 500 people who came to pickup the name and address of their meal recipient before attending Mass.
"Volunteers do everything it takes," Dorothy added, "to make this happen!"