"One of you will betray me."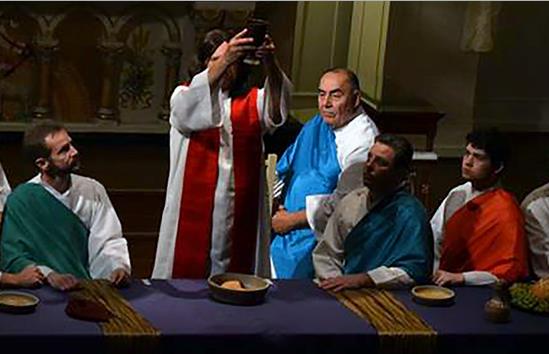 With those words, parishioners at Maternity of the Blessed Virgin Mary Church in Bourbonnais began thir 30th annual living Last Supper production on Palm Sunday.
Church members put it on every other year and once again it filled the sanctuary with parishioners interested in seeing the Last Supper, as portrayed visually by Leonardo Da Vinci, come alive.
"This is a great group of men who are faith filled," says director John Bevis, who rehearsed with the 14 men for six weeks before their production.
The performance began with the narrator introducing the setting for the night, before each disciple came forward from the darkness and reflected on his thoughts after hearing Jesus' words, "One of you will betray me."
One at a time, each disciple took his seat at the table during the building of De Vinci's famous painting, while the audience pondered each disciple's story, and their final question: "Is it I, is it I?"
For one disciple, Len Smith, this was his 30th performance. The rest ranged in age from 20-75, and all but two were parish members. They included: Dan Benoit, John Bevis, Jim Bilgri, Jim Brewer, Rob Cotsones, Perry Denault, Scott Goselin, Terry Granger, Jimmy Joines, Michael Keigher, Dominic Macaluso, Art Mantoan, Scott Seaton and Len Smith.