The latest podcast episode of Viatorian Voices asks Br. John Eustice, Br. Peter Lamick and Br. Ryan McMahon when they began to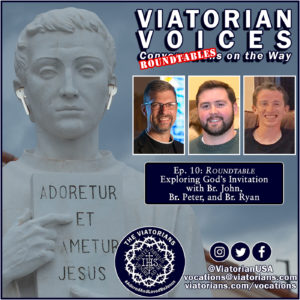 discern a call to religious life — and who was one person that impacted them early in the process.
From a freshman retreat at Saint Viator High School, to the Neuman Center at the University of Nevada, Las Vegas, to a deeper look at a calling to heal and help people — originally thought to be a calling to medical school; their answers may surprise you.
The episode is a first in a series of roundtable discussions that offer longer, deeper discussions like this one. From time to time, we will take a break from our usual 15 minute episodes to take a longer look at Viatorian Community life.
Hear their stories, in their own words and the peace they have experienced since discovering God's call for them.