The Coalition on Human Needs (CHN) is an alliance of national organizations working together to promote public policies which address the needs of low-income and other vulnerable populations.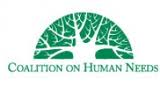 This month, the alliance released another addition of its Human Needs Report. 
Read more about the latest on Congress' spending work, disaster aid for Puerto Rico and several states, a tougher path for asylum seekers, a rollback of payday lending protections and more.