The National Catholic Youth Conference returned to Indianapolis, drawing 10,000 young people to descend on Lucas Oil Stadium for this powerful rally. The three-day gathering included speakers, music and powerful worship experiences, all built around this year's theme: Ablaze.
And students taught by Viatorians were among them.
In all, the Diocese of Las Vegas sent 70 delegates to attend the conference, including more than 20 teens from Bishop Gorman High School, Cristo Rey St. Viator and St. Viator Catholic Community. Together, they represented not only their schools and parishes, but the city of Las Vegas in this national crowd.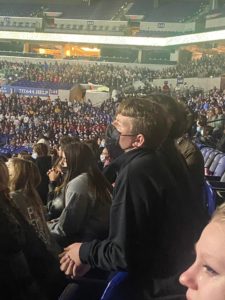 Associates Rosy Hartz, youth formation director at St. Viator Parish, and Deborah Perez, corporate work study director at Cristo Rey St. Viator, were among the adults who led the group.
"I am so excited to share this experience with CRSV students," Deb said. "I have chaperoned with the St. Viator youth group for the past eight years and it is a great time to see the young church come alive."
Rosy agreed, adding: "Lots of memories made, an amazing closing Mass and definitely tears from the seniors."