At the St. Therese Center in Las Vegas, which serves persons with HIV/AIDS, middle school students from St. Viator Catholic Community helped out in the food pantry, did light clean-up work and completed maintenance on its property — in just 5 days.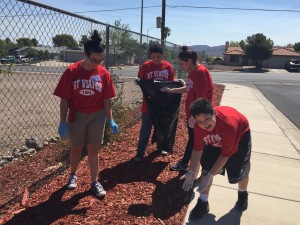 Led by Associate Rosy Hartz and accompanied by Pre-Associate Deborah Perez and parishioner Mike Kershaw, who served as music director; the young teens participated in the hands-on Catholic mission program, called JUST5DAYS.
"The youth were active in their city and served the poor in many ways," says Rosy, who runs the Campus Ministry program at St. Viator.
JUST5DAYS is one of six programs designed for young adults by the Center for Ministry Development, based in Gig Harbor, Washington. It is a five-day experience of service, hands-on learning activities, prayer and liturgy, and community building designed for middle school youth and their adult leaders from Catholic parishes.
Rosy and Mike Kershaw were tapped by the Center of Ministry Development to lead another session in Sacramento, CA, and Mike served as music director one more time for JUST5DAYS in Davenport, IA.
"Called to serve as Viatorians was a great experience," Rosy adds. "I am thankful to see so many youth who want to make their community a better place and to serve those who need it most."