The homeless population in Las Vegas and Clark County ranks 8th highest in the country, with nearly 25,000 Southern Nevadans, including families with children, experiencing homelessness this year alone.
Faced with this type of need, right in their own backyards, middle school students from St. Viator Catholic Community set out to make a difference at one of the facilities that serves the homeless, the Las Vegas Rescue Mission.
Led by Associate Rosy Hartz and accompanied by Associate Deborah Perez and parishioner Mike Kershaw, who served as music director, the young teens participated in the hands-on Catholic mission program, called JUST5DAYS.
The program engages middle schoolers at 15 locations across the country. This summer's theme took its inspiration from the scripture passage, 1 Corinthians 12:27: "Now, you are the Body of Christ" — and the Catholic social teaching principle of solidarity.
"We are beyond proud of our middle school youth who took a week out of their summer break to serve our community," says Rosy, who has accompanied young teens to this service program since 2015.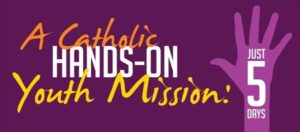 This year's group of 50 young people and their chaperones stayed at the nearby Christ the King Parish in Las Vegas, where each day began and ended in prayer. They did everything from clean its gym to sorting donations and preparing emergency kits.
The impact of providing hands-on service for the homeless and working together with their St. Viator community, made its mark on these young teens.
"Hard work and focus was needed to complete the tasks the mission had for us," said Abby Hartz.
Her friend, Jasmine Turco, described the experience as "eye-opening."
"It made me rethink how grateful I am to have what I have," Jasmine said, "and just how many people don't have the basic needs to survive."
The summer service trip is one of many retreat and service opportunities offered at Viatorian parishes, that culminate in the Viatorian Youth Congress, which gathers high school and college students from all the sites where Viatorians minister, in prayer, service and leadership.