Officially, Fr. Bill Haesaert, CSV, retired in 2013 at St. Viator Catholic Community in Las Vegas, but he continues to remain involved with pastoral ministry and in particular with its Campus Ministry program.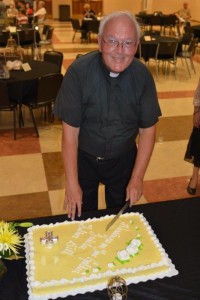 Parishioners showed their appreciation recently, when they threw a celebration in honor of Fr. Bill's 50 years in religious life.
After saying the first Mass of the day, Fr. Bill met with families in the parish hall for the rest of the morning. In all, nearly 600 parishioners lined up to congratulate him and pose for photos.
"The event was filled with people recalling all the times Fr. Bill had assisted them," said Beth Schill, the parish staff member who coordinated the event.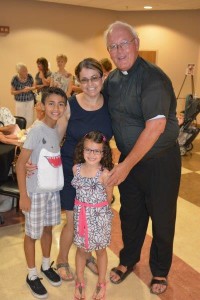 Families sat at tables and were encouraged to write Fr. Bill individual sentiments, which were collected and presented to Fr. Bill in a keepsake chest.
In thinking about his 50 years of religious life, and of all the places he had studied — Catholic Theological Union in Chicago, Springfield College, St. Ambrose College and the University of Notre Dame — and served in ministry, from schools and parishes in Illinois, to Las Vegas; he was humbled.
"All that I am is a blessing God," Fr. Bill says. "My reflections sum up an attitude of gratitude for the support I have received from my family and from the Viatorians, who are my second family."