A group of 10 adults from St. Thomas More Catholic Community in Henderson, Nevada wanted to do more than sightsee on their visit to Belize. They wanted to roll up their sleeves and help.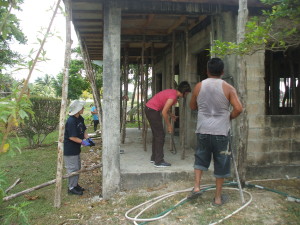 Led by Bob and Natalie Eustice — whose son, Br. John Eustice CSV, serves as superior of the Viatorian mission there — the adult volunteers spent a week in ministry at St. Francis Xavier Parish, where Viatorians are based.
"While there is work to be done, our main goal is to build community with the parishioners and people in the villages there," said Natalie Eustice, a retired school teacher. "We hope to gain a spiritual connectedness to the people of Belize, as we work together."
Their community at St. Thomas More helped to fundraise for their trip and supported them in prayer while they were gone.
"All these adults come from a wide variety of experiences, but share a common faith in Jesus," Br. John says. "They are here to rub elbows with others and have a real cultural exchange."