They call themselves, Judy's Medical Missions, but these medics are a force to be reckoned with. In just six days, they screened more than 1,100 people.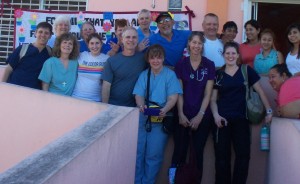 The team includes doctors, nurses, paramedics, a physical therapist and one or two non-medical personnel. For more than 15 years, they have returned to St. Francis Xavier Parish in Corozal Town, Belize, where they partner with Viatorian associates, including Rafael Cob, to meet the needs of residents in the surrounding villages.
They take their name from Judy Glancy, a registered nurse from Moline,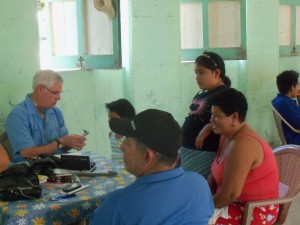 IL, who started the group. Her son, Bishop Christopher Glancy, CSV, was among the first Viatorians to establish the mission in Belize and he now serves the Diocese of Belize City.
Judy no longer makes the trip, but the medics carry on her mission to bring health care to people in the area.
"There is a higher incidence of high blood pressure, diabetes and asthma in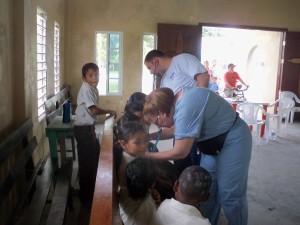 the villages," says Jackie Dupon, a physical therapist from St. Viator Parish in Chicago, who has made more than a dozen trips with the team.
They set up makeshift clinics in church halls, school rooms, community centers and hurricane shelters.
"But always, the people come," Jackie says.
Beyond health screenings, their goal is to give instruction on managing chronic diseases, as well as teach the benefits of proper diet and exercise.
Along the way, they get to know many of the villagers, who provided lunch for the medics every day. At the end, Bishop Glancy met them at the airport and personally thanked them for their ministry to the people of Belize.