That's the phrase coined by Campus Ministry staff members, as students, faculty and staff started a journey of "radical hope" this first week of Advent. They began by looking at different types of prayer, launched by Br. John Eustice, CSV, Vice President of Viatorian Identity and Mission.
"We wait with Radical Hope," Br. John said, "in anticipation of God's arrival into the world in the form of Christ on Christmas."
That's just one of the ways Viatorians opened this holy season of Advent, but they all centered on prayer, hope and preparation. Here's a sampling: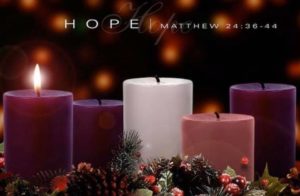 "If we can weave some spiritual hope and expectation into the other patterns of the month, it can be very enriching," said Fr. Patrick Render, CSV, pastor of St. Viator Parish in Chicago. "For Catholics, the feast of Christmas should be rooted in the birth of Christ – and that focus will be enriched if Advent enables us to slow down, put things into priority, and do a few things that really nurture our minds and our spirits."
Fr. Dan Belanger, CSV, pastor of St. George Parish in Bourbonnais and St. Mary's Church in Beaverville, opened Advent with an examination of Mary, whom he said models the example of waiting, hope and expectation.
"Our story begins with Mary asking how do I walk into the unknown — and looks at how Mary began a journey with questions," said Fr. Belanger in the opening of his homily at both parishes, which are in the midst of spending a year dedicated to Mary.
 At Cristo Rey St. Viator College Preparatory High School in North Las Vegas, Fr. Thomas von Behren, CSV, lit the first candle of the Advent wreath, as students gathered around.
"The world awaits a time of peace, a time of joy, a time of love," he said. "May this Advent season offer you a time to prepare for the coming of our savior. We anxiously look to Him to bring us those things that we long for — peace, joy and love."