Many hands make light work and that was the feeling Tuesday as Viatorians spread out to deck the halls of the Province Center with advent wreaths, boughs of holly, and festive trees and garland.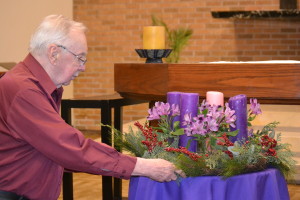 Br. Don Houde, CSV, went to work first, fashioning an Advent wreath out of fresh Peruvian lilies, holly berry and greens, just in time for the first Sunday of Advent. The wreath is a focal point in the Province Center chapel, not only on Sundays but during daily Mass and the noontime prayer and reflection, that draws together Viatorians and associates each day.
Next, Br. Carlos Ernesto Flórez, CSV, trimmed the front doors of the Province Center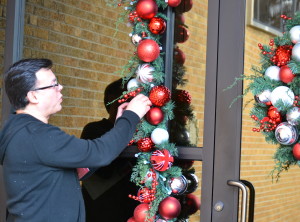 with ornaments, lights and garland, the better to celebrate the Christmas season with all who enter. Br. Carlos serves as a general councilor for Fr. Alain Ambeault, CSV, superior general of the worldwide Viatorian Community, but he lends his talent for design and color to the Province Center, especially during holiday seasons.
Associate Joan Sweeney serves as archivist of the Viatorian Community. As one of her means of sharing the collection with the community, she regularly mounts displays in a glassed case located outside of the chapel.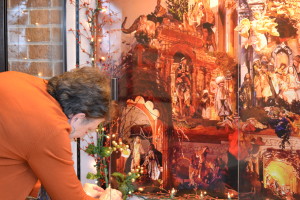 For this Christmas season, Joan enlarged a photo of the Baroque-styled presepio, or Italian nativity scene on display at Maternity BVM Parish in Bourbonnais. Fr. Richard Pighini, CSV, has been collecting individual pieces from Naples, Italy for 10 years. He spends the days leading up to Advent mounting the bustling Neapolitan village, that surrounds the holy family, on Mary's altar. The display draws hundreds of visitors to this historic church, where Viatorians began ministering 150 years ago this year.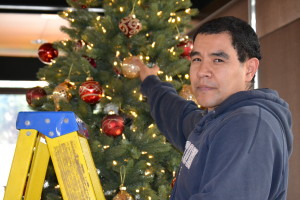 Finally, Noé Quiroga, one of the staff members at the Province Center, set up a Christmas tree in the dining room, complete with hundreds of ornaments and tiny lights. The tree brightens the entire room and brings the Christmas season alive to retired Viatorians and all who visit.