Fr. Dan Belanger, CSV, and his parishioners at St. George Parish in Bourbonnais have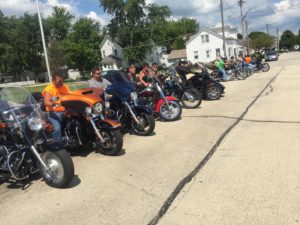 organized events every month in celebration of Pope Francis' Jubilee Year of Mercy, but their latest effort centered around drawing a popular group in central Illinois: motorcycle riders.
St. George parishioners organized a "Chopper and Chapels Charity Run" that took place Sunday. The ride wove cyclists through the farmlands to seven rural parishes across Kankakee and Iroquois counties in central Illinois.
"Take a scoot through God's country," the flyer read," through various small town churches."
Organizers included Viatorian Associates Dave and Sue Surprenant, Susan Bourgeois, and Curt and Cathy Saindon, who helped to spread the word and opened it up to local riders' group.
"It was an ecumenical ride," Fr. Belanger added.
The ride drew nearly 45 bikers and raised money for the Make A Wish Foundation, but it was the beauty of the rural churches and the parishioners that make up their faith communities, that they remembered.
Riders began and ended at the historic St. George Parish, where Viatorians have ministered for
more than 100 years. They also took in St. Mary's Church in Beaverville, the so-called 'cathedral in the country;' St. John the Baptist in L'Erable, St. Peter's in Clifton, St. Mary and Joseph in Chebanse, St. Margaret Mary in Herscher and St. James the Apostle in Irwin.
"Riding is popular here and there are a lot of people in our parish who like to ride," Fr. Belanger added. "It seemed like a natural."