Less than one month after starting school, Saint Viator High School freshmen learned what makes their school different: the Viatorian charism.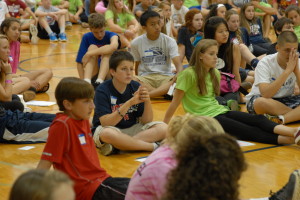 At the annual freshman retreat, the 230 class members and 125 student leaders gave up an entire Sunday, and instead spent the day reflecting on Faith: Lived. Deepened. Celebrated.
They broke up into small groups, led by upper classmen and first identified symbols around the school where faith is lived, before exploring through dialogue and discussion, how to deepen their faith.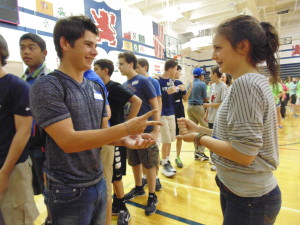 "We really challenged them to dive in and find out who Jesus really was," says Br. John Eustice, CSV, who helped coordinate the retreat with staff members in campus ministry. "They ultimately learned that the way you do that, is through building better relationships with your friends and family."
Following the day's theme, the retreat ended with teens celebrating their faith at a family Mass. The concluding liturgy drew 750 people and involved young people in many parts of the Mass, including providing the vibrant music ministry.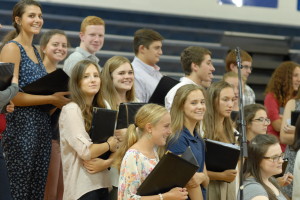 Fr. Corey Brost, CSV, president of the school and an active retreat participant, served as the main celebrant.
"Something good is happening here at this school," Br. John added. "That was apparent at the Mass, where we filled the entire gym. It was a first for the freshmen, but they are learning that this community is a place where our students and their families can live, deepen and celebrate their faith."