Saint Viator High School held its first annual Women's Event, assembling a panel that included Sacred Heart of Mary and Saint Viator high school alumnae. They represented more than 15 career paths, and shared ways of gaining confidence, job shadowing, relationship building — and all in the 21st-century workplace.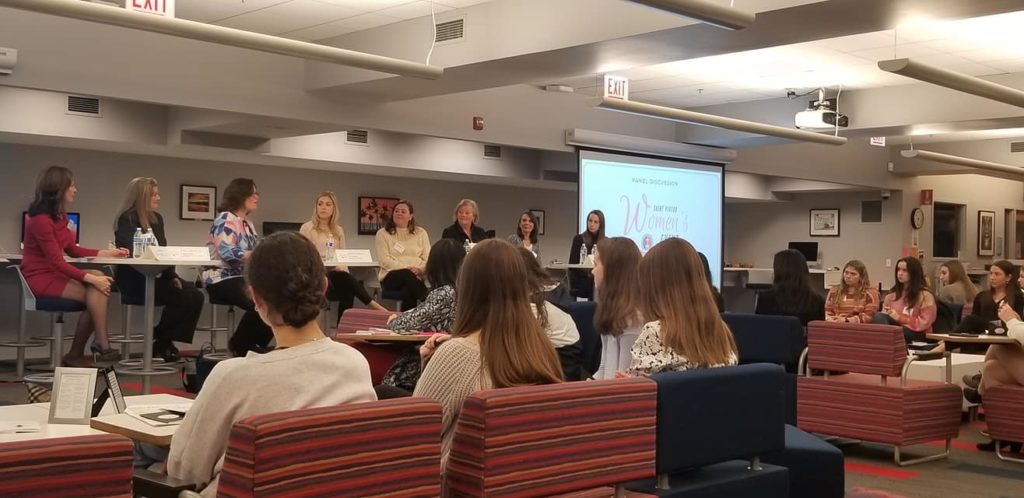 Fr. Daniel Lydon, CSV, President of Saint Viator, was one of only three men in attendance. He holds a unique distinction among past presidents of Saint Viator: He is the only one to have had a sister attend Sacred Heart of Mary. His sister Patricia Lydon graduated in 1976. Consequently, his interest in empowering female students — and engaging Sacred Heart of Mary alumnae — is real and personal.
At the Women's Event, he listened to the more than 30 panelists — representing fields that included development, education, finance, graphic design, journalism, law, marketing and communications, medical fields, real estate and social work, to name just a few. Afterwards, guests had the chance to talk to these women professionals during breakout sessions in a career fair of sorts in Querbes Hall.
"It was wonderfully inspiring," Fr. Lydon said. "It's a keeper."
This first time event was designed to encourage students to begin establishing building blocks for career readiness. Organizers hoped students would walk away inspired to pursue their passions. Little did they dream they would inspire the school's president.