The Viatorian Community regrets to announce the passing of Br. Leo Ryan, CSV, one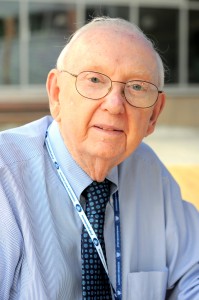 of its oldest and longest serving members.
Br. Ryan had been hospitalized one week ago with congestive heart failure. He passed away Wednesday morning, at the age of 89 and in his 66th year of religious life.
A memorial Mass took place July 2 in the Boler Center at Saint Viator High School, which drew nearly 300 people from all of the places he had served.
Br. Ryan's years of ministry had taken him around the world, literally. From serving in Nigeria with the Peace Corps during 1967, to serving as a visiting professor and prolific writer in Poland, to serving as a member of the Viatorian General Council in Rome; he advanced the Viatorian mission in all corners of the world.
Closer to home, he had served on the building committee that helped to establish its namesake Saint Viator High School, and he ultimately served as its first president.
He would go on to lead the business departments at three Midwestern universities, including Marquette, Notre Dame and DePaul, whose university officials credited Br. Ryan with helping to transform its business college into a nationally ranked and internationally known institution.
However, Br. Ryan never lost sight of his roots. He grew up in Northeast Iowa in the small town of Waukon and returned to the area regularly and submitted articles to its newspaper.
He was devoted to the Viatorians — and to its founder, Fr. Louis Querbes, whose motto he lived daily: "Adored and loved, be Jesus."