For nearly 25 years — ever since the Catholic Theological Union in Chicago began honoring worldwide Peacemakers — Viatorians have attended.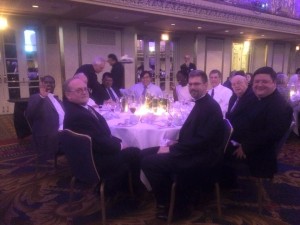 The annual Blessed are the Peacemakers Trustee Dinner honors an individuals who reflect CTU's values, particularly in the areas of reconciliation, justice and peacemaking.
Over the years, its recipients have ranged from Fr. Theodore M. Hesburgh, CSC, president of the University of Notre Dame in 1998; to Queen Noor of Jordan in 2001; to filmmaker Steven Spielberg in 2003.
This year, Viatorians gathered with nearly 400 people at the Conrad Chicago Hotel to recognize Dr. Paul Farmer, the renowned physician, anthropologist, and co-founder of Partners In Health.
They also honored Bob and Sheila Berner for their exemplary leadership and service. Sheila Berner has served as a longtime case worker with the Howard Area Community Center on Chicago's north side, while her husband has served on CTU's board of advisors.
Fr. Mark Francis, CSV, president of CTU and former superior general of the Viatorians, hosted the evening and he introduced the evening's featured guests.
He described meeting Bob Berner in 2005, when he came to Rome with a CTU delegation to mark the anniversary of Nostra Aetate, the landmark Vatican document that launched positive dialogue between the Catholic Church and Judaism.
That same spirit of ecumenicism can be found at CTU, whose programs  address the intercultural needs of the Church in an increasingly global society.