A bronze casted statue of St. Thomas More is the latest addition to the new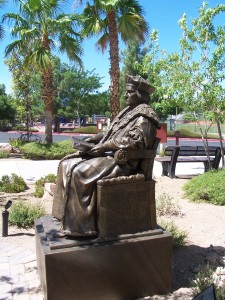 reflective spaces on the campus of his namesake parish in suburban Las Vegas.
At St. Thomas More Catholic Community, an image of the 16th Century saint sits directly opposite the main doors of the church. The better to preside over the parish as its patron.
The parish commissioned one of the staff artists at a company in Bogotá, Colombia to create the piece. Interestingly, Thomas More is sitting on a bench and reading the Bible in this rendition, and not standing in a more imposing nature. Two nearby benches set off the area and draw parishioners of all ages to gather near their patron.
The same sculptor also created a figure of Christ at prayer, which was installed in another alcove in front of the church, on the parish campus.
Parish officials began creating these reflective spaces during its 25th anniversary in 2011, in an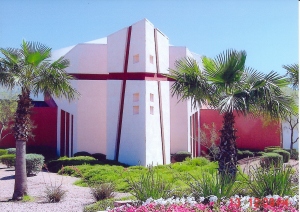 attempt to give the grounds a fresh, new look. Each area was bricked with paver stones and shaped by new landscaping, and all funded as memorials by various parishioners.
"These are not elaborate gardens," says Fr. Patrick Render, CSV, pastor, "but just some small little alcoves created near the front of the campus to offer people optional spaces for quiet and prayer."
St. Thomas More was chosen as the parish patron even before it opened its doors, in 1986, when parishioners met for weekly liturgies in an area preschool. At the time, the parish was established as an outgrowth of St. Peter's Church in Henderson, and given its name by its former pastor, Fr. Peter Caviglia.
"He chose St. Thomas More because he was a layman, a married man and father," Fr. Render adds. "He was involved in the civil society — and he seemed a good model of what Vatican II was endorsing at the time, in its theology of the laity."