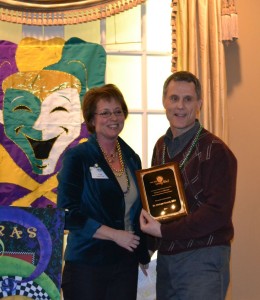 Typically, Br. Michael Gosch, CSV, likes to work behind the scenes, empowering those in the immigrant community. But recently, he found himself being honored for his work in social justice by the Sisters of the Living Word.
The religious congregation presented Br. Gosch with its Partners in Mission award at their 25th annual Mardi Gras fundraiser. As a group, the sisters describe working to free the oppressed, as one of their most important ministries.
In accepting his award, Br. Gosch referred to the many partnerships he has had with Sisters of the Living Word over the years. Specifically, he described holding peace rallies, promoting affordable housing in the suburbs, planning a post-detention accompaniment program for immigrants, visiting with prisoners and most recently lobbying state legislators for the passage of temporary visitor drivers' licenses.
"This partnership with the Sisters of the Living Word has been a wonderful gift," Br. Gosch said. "It is I who have been blessed. It is I who has been graced. It is I who has been enriched because of it."
In closing, he added: "I look forward to many more years of continuing this partnership between the Sisters of the Living Word and the Viatorian Community . . . so that together, we may continue to bring forth the word of God to a world that so desperately needs it."