Every day, Fr. Thomas von Behren, CSV, walks into his provincial office and looks at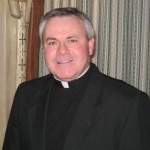 the same painting of Jesus washing the feet of the disciples at the Last Supper, done by Italian artist, Felix Urbina.
The painting is one of a number of works by Urbina in the Viatorian collection that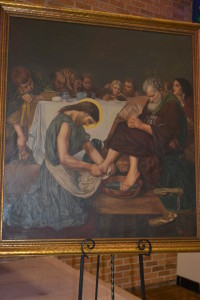 were commissioned by Fr. John Brown, CSV, who served as provincial from 1949-1959. Presumably, that painting went up in his provincial office more than 60 years ago and has been inspiring all of the provincials that followed Fr. Brown.
In Fr. von Behren's mind, it speaks volumes about the power of servant leadership, and it all goes back to Jesus washing the feet of his disciples.
This year, Fr. von Behren took the painting out of his office and placed it prominently near the altar in the Province Center chapel for Holy Thursday Mass. An image of the painting was featured on the program.
During the Mass, Fr. von Behren reflected on the painting — and its message — during his homily, before rolling up his sleeves and washing the feet of six members of the Viatorian Community, three men and three women.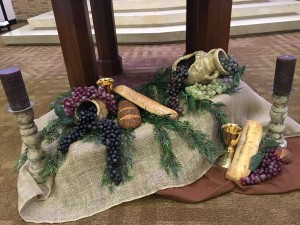 Adding to the liturgical setting, was the display of earthen vessels, grapes and loaves of bread set up before the altar by Br. Carlos Flórez, CSV and Associate Karen Cutler.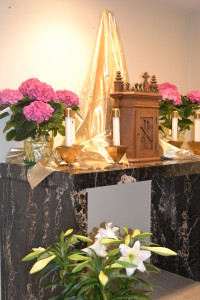 The Mass concluded as it traditionally does, with a procession — accompanied by incense — making the transfer of the Holy Sacrament to the altar of repose.