Maternity BVM Parish is celebrating its 175th anniversary this year, and fittingly the historic church was chosen to host the final concert of the season of the Kankakee Valley Symphony Orchestra.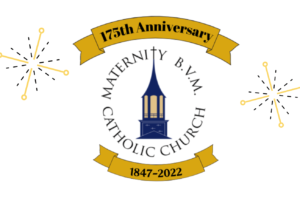 The program was designed to honor the area's French Canadian roots, says Dr. Allan Dennis, music director. Consequently the selections featured pieces by the French composer Claude Debussy, and the musicians included two parishioners, who play regularly at Maternity, Stephanie and Rich Lupo on flute and piccolo.
The symphony regularly performs at the Millenium Chapel at Olivet Nazarene University in Bourbonnais, but this season they have played at churches throughout the community.
"Maternity had been recommended as a venue because it represents a historic landmark in the area," Dr. Dennis said. "I also wanted to do some strictly French music so everyone recommended we look at this church."
It was French Canadian settlers in the area who started the parish, building its first church in 1846. Viatorians have continously staffed it since 1865. One of them, Fr. Richard Pighini, CSV, led a dramatic renovation of the church in 2013, with the ceiling cast as a starry night, hand stenciled fleur-de-lis — drawing on its French roots — and all in contrast with the altar and gleaming white sanctuary.
"Our first impression was how beautiful it was and how steeped it was in the French tradition of the area," Dennis said. "The size was good, and its simple 'shoebox' shape is always good for acoustics.
"The orchestra could hear each other and loved the sound," he added. "I especially liked the beautiful soft tones of the music that everyone could hear."
The Kankakee Valley Symphony Orchestra formed 55 years ago and Dr. Dennis has served as music director since 1987. During the pandemic, a woodwind quartet made up of symphony members performed at Maternity.
"It was attended by over 60 people, all masked, as were the musicians," says Lynn Ahlden, orchestra president. "We realized then that Maternity was a wonderful venue."
Fr. Jason Nesbit, CSV, pastor, assisted in making both concerts happen, as a way of sharing historic Maternity BVM Church and promoting this local, cultural institution.
"The response from the audience was amazing," Dr. Dennis said. "We felt their excitement and appreciation as, I'm sure they felt the orchestra's power, sweetness and energy."